It is easy to imagine distant futures in which the Arctic Code Vault is forgotten or inaccessible. To preserve the world's most important open source software, and as a testament to its importance, we are also archiving GitHub's most popular and depended-upon repos with three of the world's great institutions devoted to human knowledge: the Bodleian Library in Oxford, the Bibliotheca Alexandrina in Egypt, and Stanford Libraries in California.
These repos, like those in the Arctic Code Vault, have been archived onto hardened film built to endure for a thousand years. Each includes more than 17,000 repositories—open source's "greatest hits"— and each is enclosed in a beautiful museum-quality case featuring 3D-printed and AI-generated artwork.
The snapshot of every active public repo in the Arctic Code Vault contains a trove of unfiltered data, which we hope will be useful to future historians, but only a relatively small number of repositories are likely to be useful if the archive is called upon for practical purposes. It is those which comprise the Greatest Hits. However, per our advisors' advice, each "greatest hits" archive also contains 5,000 randomly selected "ordinary" repos, for future historians.
The GitHub Archive Boxes
One thing our advisory panel unanimously advised was that, in order to survive indefinitely through uncertain futures, these archives would need to be appreciated and valued as objects in and of themselves. "If you don't make it beautiful it's for sure doomed," as Alexander Rose, executive director of the Long Now Foundation, put it.
Following this guidance, we commissioned the construction of four museum-quality cases by Alex Maki-Jokela, an artist and engineer whose work blends traditional aesthetics with 3D printing and AI-generated art. (The fourth box will live at GitHub HQ.) These archival cases were adorned with art generated, in part, by software stored within the archive. Maki-Jokela has blogged at fascinating length about his work on this project.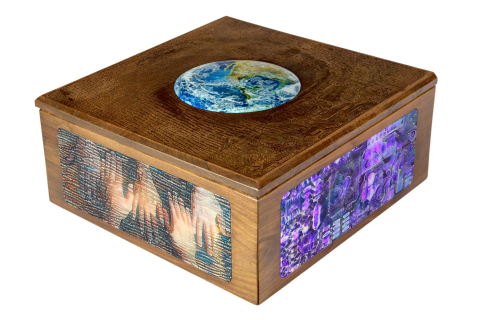 GitHub Open Source Archive Box
Design by Alex Maki-Jokela
Alex Maki-Jokela is an artist and engineer whose work blends traditional aesthetics with A.I. and other technological mediums. His current focus is A.I. and hybrid human-AI art - in the past, he founded the A.I. art clothing company Spirit & Glitch, helped lead the build of the brain-driven LED Burning Man art car Dr. Brainlove, and pursued many other projects at the edges of technology and creativity. His engineering background spans multiple fields, from leading industrial manufacturing efforts, to developing custom machine learning and software solutions, to advising on company-level systems and flows. In his words, "Separations between fields are artificial. The further you follow your curiosity, the more patterns you start to see that span different worlds, and the more it all blends together." More information about Alex can be found at alexmakijokela.com.
Safeguards of knowledge
Bodleian Library
The Bodleian Library is Oxford's main research library and one of the oldest libraries in Europe. It has been amassing and protecting human knowledge for centuries, and its archives include codexes well over a thousand years old.
It is an honour and privilege to take part in the GitHub Archive Program. Preservation of knowledge is of enormous importance to not only us at the Bodleian Libraries but to society as a whole. In this digital age, we must constantly seek new ways of preserving critical information, such as code. Librarians and archivists, the custodians of the past, are also the advance-guards of the future. Our community has developed open approaches to software development, data practices and scholarly communication for years, consequently, it feels like the Bodleian Libraries is a perfect partner with GitHub and the other partner libraries around the world to ensure the preservation of open source software.

Richard Ovenden
Librarian (Executive) // Bodleian Libraries
Bibliotheca Alexandrina
The Bibliotheca Alexandrina, Africa's pre-eminent library and the modern-day successor to the legendary Library of Alexandria, is a center for the production and dissemination of knowledge, as well as dialogue, learning and understanding between cultures and peoples. It is also a partner of the Internet Archive. Its mission is highly consonant with how GitHub empowers projects built by millions of collaborators all around the world.
Since its launch as the New Library of Alexandria in 2002, the Bibliotheca Alexandrina has been committed to the preservation of heritage for future generations. To that end, the Bibliotheca Alexandrina developed several initiatives including web archiving, book digitization, and 3D artifact digitization. Therefore, we are delighted to work with GitHub to preserve yet another highly valuable form of human heritage: the open-source software that powers much of the technologies, on which our society today depends.

Dr. Mostafa El Feki
Director // Bibliotheca Alexandrina
Stanford Libraries
Stanford Libraries, at Stanford University in the heart of Silicon Valley, is home to a vast and diverse spectrum of knowledge in both physical and digital form, and has long been at the forefront of digital archiving and research.
GitHub Archive Program is an excellent partnership model among technology companies, libraries, and other institutions dedicated to the long-term preservation of open source software. The GitHub Box is a creative way to encourage others to ensure their history, innovations, and code are well conserved for future generations. We are pleased to be a partner on the GitHub Archive Program, the reliance on multiple providers of the same service corresponds to our LOCKSS program, driven by the principle that Lots Of Copies Keep Stuff Safe.
Michael Keller
Vice Provost and University Librarian // Stanford Librarie
---
Featured projects
// "Greatest Hits"
---
A GitHub Archive Program case decorated with AI-generated art, containing 17,000 open-source repositories archived on hardened film that will survive a thousand years, stands in the shadow of an ancient bristlecone, beneath the canopy of the Milky Way. The bristlecones atop White Mountain are the oldest living things in the world; when they first began to grow, mammoths still walked the Earth and the Pyramids had not yet been built.
---
The GitHub Archive Program plans to continue to donate and distribute other archives of open source software, in different kinds and formats, to other locations around the world.